Last Updated on January 15, 2020 by Stephan Lindburg
Welcome to our Crypto Legacy Pro review. The Crypto Legacy Pro scam software is advertised as a system that "follows cryptocurrency's rapid growth" and delivers "accurate trading signals members can follow to potentially earn a profit" of $2,000 a week. In reality this system is a clone and duplicate of the Crypto Comeback Pro app and confirmed get-rich-quick scheme. This is a fact which is not debatable or up for discussion as our detailed Crypto Legacy Pro review and scam investigation will prove. If you perceive this trading platform to be genuine or legit and wish to risk your money with the hopes of becoming rich, then you are about to make a huge mistake and will surely end up paying for it as we will show you. The Crypto Legacy Pro scam is a living example of a crypto get-rich-quick scheme, and in that respect represents everything which is wrong with digital currencies vis-à-vis the financial markets. It's also worth pointing out that the main protagonists associated with this cheap piece of trash technology are rogue offshore brokers, who are liaising with unethical affiliate networks and media agencies in what is obviously a blatant attempt to defraud, mislead, and cheat unsuspecting opportunity-seekers who are merely searching the internet for a legitimate money-making Bitcoin app. This also helps explain why we have received a barrage of complaints in relation to Crypto Legacy Pro, and they are mostly related to inability to withdraw funds and unapproved charges to credit cards. So, if you have read a fake review and for some unexplained reason believe this system to be genuine, then we invite you to read our revealing Crypto Legacy Pro and see for yourself why you should avoid it.
Official Website, Login Page, and Members Area: crypto-legacypro(dot)com
Scam Evidence:
Below you will find the Crypto Legacy Pro main sales page and registration area. Immediately you can see that they are promising you an easy way to generate $2,000 per week.
But here is the proverbial smoking gun. We have attached two screenshots below for comparative purposes. The first is Crypto Legacy Pro and the second is Crypto Comeback Pro (notice the similarity in names). It's fairly easy to see that these are duplicate scams and we have marked the relevant sections for you so you can see exactly why we have reached this conclusion. The most eye-popping piece of evidence has to be the member counter which we marked with a red arrow on the top ride side of the image. A closer look reveals that the numbers are exactly the same in both systems, and that's because they use a widget which generates random numbers (we checked the actual code).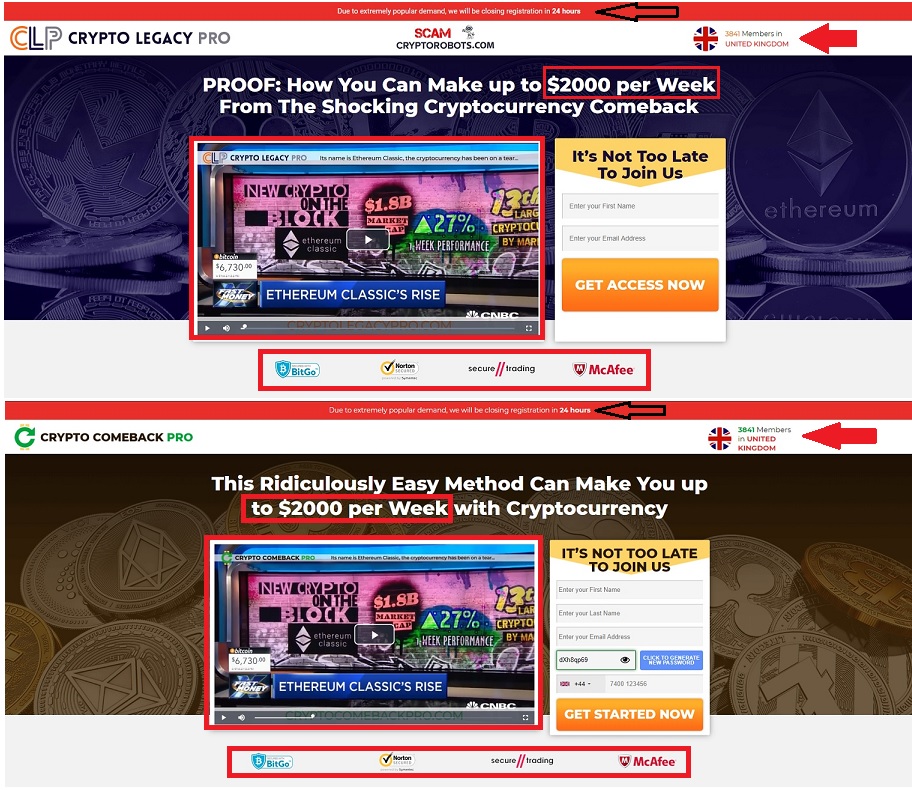 And here is the testimonial section of the Crypto Legacy Pro scam. It's quite simple to see that all the testimonials are forged and taken from image banks.
Fake Crypto Legacy Pro Reviews
Below you will see a screenshot of a fake review site which is endorsing this farce. This website is known to be one of the sleaziest review sites in the industry and part of a larger network which has made a conscious decision to defraud as many victims as possible for the reasons of personal gain in the form of affiliate commissions.
Crypto Legacy Pro Fake News
Its a well-known fact that scammers are using fake celebrity-based news advertisements for promotional purposes, and Crypto Legacy Pro is no exception. Celebrity-based scams in Forex usually use reality TV stars like top UK Chef Gordon Ramsey, Singapore Billionaire Peter Lim, actors like Daniel Radcliffe, and high profile individuals like Elon Musk, Richard Branson, members of the Dragons' Den, and Shark Tank.
What Is Crypto Legacy Pro and How Does It Work?
Crypto Legacy Pro is marketed as a signals platform which trades crypto contracts based developing market trends. They claim that by following the buy/sell signals you can generate $2,000 weekly.
Crypto Legacy Pro Review, Recycled SCAM or Legit Trading App?
The Crypto Legacy Pro scam has absolutely nothing to do with online trading, and everything to do with getting scammed by offshore brokers. When we signed up the broker which was assigned to us was "Top Trade Pro" which has a registered business address in the Marshall Islands (fishy legal jurisdiction). Similar to it's predecessor Crypto Comeback Pro, this software also uses the same concept of cryptocurrencies making a comeback and how you could get rich simply by making a one-time investment of $250. Again, these scammers are targeting amateur or inexperienced traders or opportunity seekers who are just looking for a relatively easy way to make a quick buck. So no, we don't believe the sales pitch about Crypto Legacy Pro being the world's "only reliable and predictable software that tracks the staggering growth path of all cryptocurrencies". Contrarily, we do believe that this type of hype is extremely deceptive and designed to trap innocent victims who are already strapped for cash in most cases. We have heard horror stories from a broke single mother residing in Utrecht in the Netherlands about how she was harassed over the phone by a sleazy sales rep, only to find out later that her credit card was overcharged. We also received a complaint from one of our members in Germany about the software being non-existent, and that is because the scam is copied and exists in various formats (all of which are scams).
Is It Free?
Well, that's the only thing they didn't lie about. They specifically mention it costs $250 to get started, so at least they get kudos for saying the truth about that.
Legitimate Crypto CFD Trading Versus Fake Apps
Trading crypto CFDs (contracts for difference) is definitely one possible way to generate profits, but you must have a basic understanding of the markets and digital currencies. For example if you don't understand technical analysis and when to enter or exit a trade then you need access to some type of system that helps you.
Viral Scams Trending
The ones to watch out for are Profit Revolution and Bitcoin Future.
A Few Tested Apps
Testing new software is one of the things we do best here at Scam Crypto Robots. We poke and prod, and conduct a variety of tests which comprise of technical, operational, and overall user experience parameters. Once identify a software which is both easy to use as well as profitable (a rare combination), we add it to our recommended section. So go ahead, feel free to check it out.

Crypto Legacy Pro Review, Conclusions, and Recommendations
The Crypto Legacy Pro scam is most definitely NOT what it purports to be (to say the least), and as we have already mentioned it's totally blacklisted. We refuse to accept any form of deceptive advertising, misleading sales tactics, hyped up or exaggerated claims of easy money, or photo-shopped images of inflated bank accounts. So no, you will not become a new Bitcoin millionaire if you signup for this phony app, and we can pretty much guarantee that you will end up losing your money if you unwisely choose to invest. If you believe we are mistaken or have misjudged this latest ruse, we invite you to reach out and message us via our contact page or social media.