Last Updated on January 1, 2023 by Stephan Lindburg
Are you searching the internet for an independent Bitcoin Hack Review and SCAM Investigation? Well, if you are concerned about the authenticity of BitcoinHack(dot)Net and would like more information, then our honest review will answer all your questions and connect the dots in a clear and easy to understand way. So, for those of you who are unsure and need some clarifications, you should know that the Bitcoin Hack scam software is a confirmed financial fraud and a filthy get-rich quick crypto scam.
This software is being marketed as a trading robot which generates money for you on auto-pilot, however things are not as they seem. It was bought to our attention that a team of Russian programmers have developed this thieving software and are now launching it through some very crafty affiliate networks that integrate with anonymous brokers which are usually unlicensed. The simple truth is that the fake Bitcoin Hack app was designed with pure malice and the explicit intent of defrauding unsuspecting day traders who are simply searching for a legit way to supplement their income.
To the greedy scammers behind the Bitcoin Hack SCAM software we can only say shame on you cheaters! We received your threats and despite all your efforts we will still make our opinions available to the public and expose your vile Bitcoin scheme. If you were solicited via SPAM email or fake ad to join this program, then we highly advise you refrain from clicking on any links.
Our staff has received various reports that these affiliate links are infected with spyware, and oddly enough as the name suggests designed to hack your computer or handheld device. Want see proof of SCAM backed up by evidence and facts? Keep reading our informative Bitcoin Hack review to see how we exposed the dirty Bitcoin Hack operation.
Official Website, Login Page, and Members Area: BitcoinHack(dot)Net
Quick Update: Bitcoin Hack is not being promoted these days and has de-facto become inactive. If it starts getting viral we shall update our review accordingly.
BitcoinHack(dot)Net: Scam Evidence
Here is the fake Bitcoin Hack sales page and signup area. Here you can see a presentation by someone who claims that he is the creator of the original bitcoin (NOT Satoshi Nakamoto). That is a crappy sales pitch, which is backed up by additional lies about the Bitcoin Hack generating $1,421 in just a week. A closer look will also reveal that these liars are also using fake stickers (CoinBase) to lend a sense of legitimacy to their fraudulent trading software.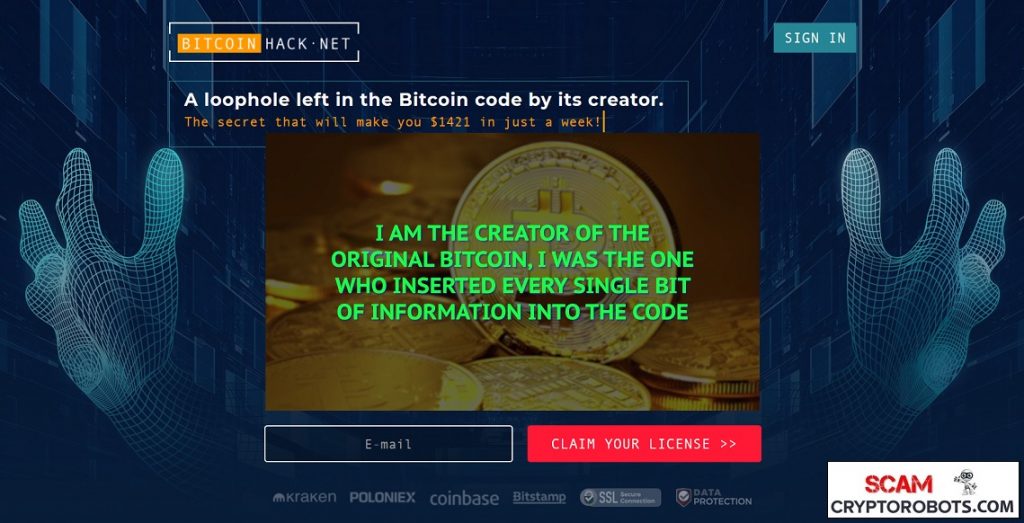 And here is the smoking gun in the form of fake testimonials. You can clearly see that the images are not real people and despite the fact that these scammers go to great lengths to cover up their lies, we were able to catch them red-handed spewing lies about how their members were making SO much money using their software.
Bitcoin Hack Review – How Does BitcoinHack.Net Work?
If we examine the sales video, we are told in a very misleading way that the Bitcoin Hack is "inserted into every single bit of information" of Blockchain technology which powers cryptocurrencies. The "creator" goes on to say that Blockchain was really created to make it possible to encode future price fluctuations and in this way manipulate the cryptocurrency markets.
He claims that this is the real reason all Bitcoin Millionaires became rich and that he is now launching his trading program which is based on the original Bitcoin Algorithms. The software actually "hacks" the Bitcoin or Blockchain code and executes profitable trades on auto pilot.
Bitcoin Hack Signals, Scam Or Legit Crypto App?
Below you will see the actual trading robot switch from the user interface. From a trading perspective the functionality is actually very well designed and at first glance very easy to use. You can also customize the rate of exposure and see your open positions. The statistical data is also very well made.
Unfortunately we are not interested in window dressing and are only focused on results and performance. Regrettably the Bitcoin Hack SCAM app does not deliver on it's promise and despite the easy navigation and potential this software has it failed to perform as advertised. Does that surprise you? It shouldn't, most apps don't produce results and you end up losing your money.
Bitcoin Hack: The Problem Site
At times we are shocked by the level of audacity and sheer cheek these con artists display. You can't lie and make statements about how much money your site can produce when in fact its very easy to debunk these fake claims. In reality you are being funneled into a financial scam which consists of affiliate promoters on one hand, while on the other you have brokers who accept their referred customers and start pumping them with various offers in order to increase sales. The hyped up claims, inflated bank accounts, and unfounded facts are simply unacceptable in an age where everything is open and transparent.
Are There Any Other Similar Scams Out There To Avoid?
We have been getting the most complaints about Bitcoin Evolution.
Is Bitcoin Hack Free or Not?
Its going to cost you at least $250 to get started and that money will be deducted from your credit card by some offshore broker which may or may not be regulated. In any case, you should know that the complaints and feedback we received indicate to use that traders were lied to and signed up for brokers by mistake, so that should be an important factor to address when making a decision.
Some Worthy Alternatives
It goes without saying that most crypto robots are scam apps and completely worthless. Their primary function is to cause you to lose your money so that the promoters and brokers can split the profits they generated by getting you to fund the account. However, there are a few systems that actually produce results consistently, and these are listed in our recommended section so feel free to check them out.

Bitcoin Hack Review Summary, Conclusions, and Helpful Tips
The Bitcoin Hack SCAM software is a confirmed investment scam and a fake crypto robot. There is nothing legitimate or honest about this fraudulent app and it is designed with the single purpose only; to bait and defraud unsuspecting victims. After doing all the testing and checking out the signals and trading interface, we found out that the market data is delayed by over 15 seconds and the contracts (buy or sell) are purchased at random without any understanding about basic concepts such as leverage, spillage, or technical analysis in Forex trading.
It is primarily for this reason, we have decided to BLACKLIST the Bitcoin Hack (BitcoinHack.net) crypto robot and advise our subscribers seek alternative investment channels. If for some reason you still believe the Bitcoin Hack is a genuine trading app, then any form of online trading is not for you and you need to think of other ways to earn additional income. If you have additional questions you can always message us via our YouTube Channel, and Facebook Group.