Last Updated on June 3, 2021 by Stephan Lindburg
Welcome to our Bitcoin Revolution review. Have you heard about the new Bitcoin Revolution scam software, app, and fake investment platform? Well, there is much hype about this latest viral scam and with good reason. The amount of fake news reports originating from the Bitcoin Revolution scam has surpassed anything we have seen to date in the get-rich-quick crypto scam scene. We are talking about the deliberate and unauthorized use of the reputation of public figures such as Hugh Jackman, top British Chef Jamie Oliver, Irish Singer Shane Filan, Icelandic Finance Minister Bjarni Benediktsson, New Zealand Prime Minister Jacinda Ardern, Celebrity blogger Martin Lewis, Former Rugby Player Naas Botha, and a host of other public figures and celebrities.
The scam works in various ways, first and foremost advertising agencies and affiliate networks use their marketing and technological infrastructure to launch new websites on various search engines, and also via social networks such as Facebook and Instagram. What you don't see is how everything ties in together, and that is the real story behind the Bitcoin Revolution scam software. But before we get into the details, we will just say that this latest scheme which is directly responsible for defrauding thousands of would-be traders consists of 3 main groups. The first group is the online promoters, these are the smart marketers who understand how to bait and trap you. The second group consists of offshore brokers. When we tested the Bitcoin Revolution the broker which was assigned to us was KontoFX, which is owned by NTMT Transformatic Markets OU and has a registered business address in Tallinn Estonia. And the last group belongs to the payment processing companies and banks. The bankers are more than happy to grab their pound of flesh and dirty money, but they have to insulate themselves from the high level of risk involved with these types of fraudulent schemes, so they use intermediaries who absorb the risk for them (for the right price).
When you invest you are feeding all of these crooks and don't forget all the sales reps who get bonuses for up selling you investment packages (that's the real money). OK, so naturally the Bitcoin Revolution scam is a blacklisted Crypto Robot and we have managed to produce a mountain of proof which validates our initial conclusions. Still, if you believe that the Bitcoin Revolution system is a legit or genuine trading app, then you should really take a few minutes and read our Bitcoin Revolution review because we exposed the cheaters behind it and how they operate.
Official Bitcoin Revolution Website, Login Page, and Members Area: https://bitcoinrevolutionofficial.com
Bitcoin Revolution SCAM  Evidence:
So here is the main sales page as well as registration area for the Bitcoin Revolution scam crypto robot. Its very clear to see that it says "Bitcoin is Making People Rich, and You Can Become The Next Millionaire". And right under it you will see other variants of the SCAM, namely Bitcoin Trader, Bitcoin Secret, and Bitcoin Formula which we previously exposed on our website. Feel free to click the image to enlarge it so you can see in detail how it is an exact facsimile copy.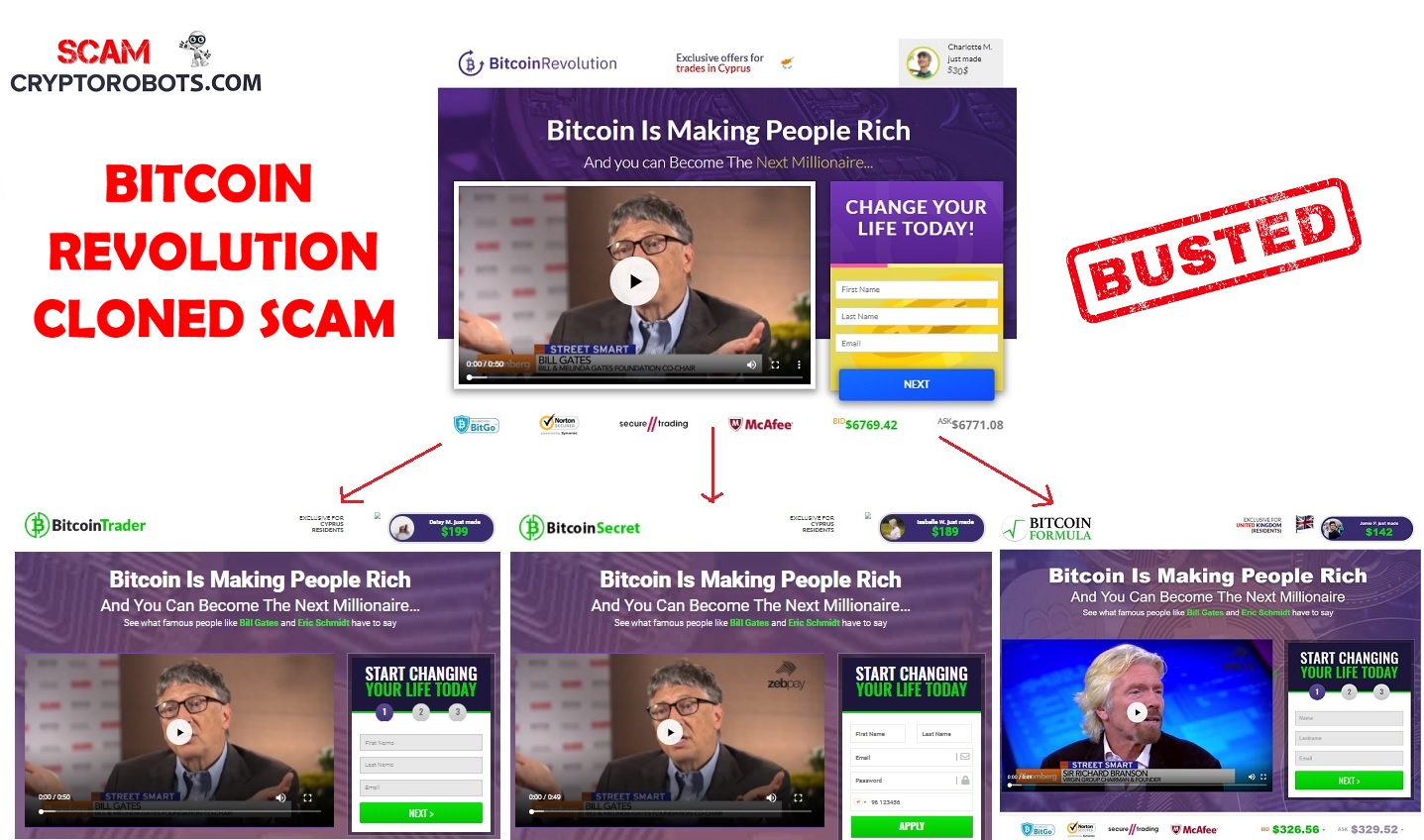 And here is the post-signup page which pops up immediately after you signup. Here you will see that the Bitcoin Revolution software is powered by the same technological infrastructure and delivers the same scripts depending on the broker which is assigned to you.
Fake News Ads – Bitcoin Revolution SCAM Baiting Tactics
Now we get to the real interesting part of the scam, which has to do with fake news. We have attached an assortment of fake advertisements as well as commentary about this alarming new trend. Please note that the list of celebrities and public persons is just partial and constantly keeps changing (and growing). Recently we received a complaint from a member in Singapore about a fake advertisement which uses the name of the Deputy Prime Minister.
The ad states that "Tharman Shanmugaratnam launches hi-tech digital project for Singaporians, and this will make you rich in just seven days". It includes a picture and forged statements designed to attract innocent victims. Similar complaints were received from Australian members who have seen fake Elon Musk, Per Gessle, Kate Winslet, Ryan Reynolds, Jeremy Clarkson, Peter Sagan, Charlize Theron, Chris Brown, Silvio Berlusconi, Carlos Slim, Bill Gates, Akshay Ruparelia, Andrew Forrest, Bono, Jim Pattison, David Beckham, Chris Hemsworth, Celeste Barber, Bear Grylls, Elton John, James McAvoy, Piers Morgan (newly added) and Richard Branson ads about how easy you can make over $16,000 daily using a "secret Bitcoin formula." These fake ads all leads to the Bitcoin Revolution scam now.
What Is Bitcoin Revolution?
The Bitcoin revolution is a cloned website designed to attract new customers wanting to generate income online. It is marketed as an exclusive group of club of millionaires who had the common sense to jump on the "insane returns Bitcoin has to offer". They also say these millionaires are now living a lifestyle reserved only for a select few and don't really have to work anymore. There is also mention of a trading app which has "laser-accurate performance" and a 99.4% level of accuracy (if you believe that). They claim that the advantage this software has is that it is faster, hence generating more income for its users.
How Does the Bitcoin Revolution SCAM Work?
The diagram below illustrates in the most simplistic and easy to understand how this dirty operation works. The campaign starts with fake news which is either presented to viewers via search engines or social networks. The banner ads lead to the Bitcoin Revolution scam which has a signup form that integrates directly into the Forex broker CRM.
In most cases customers are not even aware they are signing up for a fake Forex and CFD broker. They think they just joined a program which will make them tons of money, but in reality what happens next is critical. That is the stage where they are illegally solicited to pull out their credit card and invest with a phony broker who would like nothing better than to steal their money.
Bitcoin Revolution Review, Don't Join You Won't Get Rich! (Updated for 2020)
The Bitcoin Revolution scam is currently being marketed as a "hands-free trading solution" which is another way to say that it is a crypto robot or auto-trader. In reality there is no software at all! Its just a website with a ton of hyped up claims about some "life-changing" software which will transform you into a millionaire overnight. But the truth is that there is no secret formula, or award winning trading app. Don't believe the fake testimonials and live profits results either, we checked the code and found out that it is a java-script based looped system which is totally rigged and set on win all the time in order to mislead you. Don't pull out your credit and divulge any kind of confidential financial information because these con artists are professional and highly experienced at committing various kinds of credit card fraud including and not restricted to overcharging and adding all kinds of fees.
Is Bitcoin Revolution Free?
Despite what you may be driven to believe, it is not. It's going to cost you at least $/€/£250 and that money will be charged to your credit card by slimy offshore brokers.
Fake Bitcoin Revolution Reviews
We have seen multiple fake Bitcoin Revolution reviews, and this is happening because the webmasters and website owners of these websites are getting paid affiliate commissions in order to endorse this fraudulent software. We took some screenshots of fake  Bitcoin Revolution review sites which are openly endorsing this scam crypto robot. So if there is this tiny little voice in your head that's telling you to think twice, its with good reason. Just message us by leaving a comment below and ask away.
Still Trust The Bitcoin Revolution Software?
If you still want to check out this software after reading our review then you must have not fully comprehended what you are potentially getting yourself into. Take a second and consider your alternatives because you are about to take the final step and take a dive into a dark abyss of financial misery. Just stay away and don't say we didn't warn you.
Some Viable Alternatives
So, it's time to make some quick decisions and believe it or not you are in luck. Our staff routinely conducts extensive research in regards to new software, and while it's true that 98% of the systems offered these days are fraudulent some are actually profitable. We actually test each and every system which we believe has potential to generate income, and once it passes our screening process we add it to our recommended section. So why not take a minute and check it out.

Bitcoin Revolution Review Summary, Conclusions, and Helpful Tips
Did we mention that the Bitcoin Revolution SCAM software is blacklisted? Oh, we did so we will just emphasize what you already know to be a fact. Bitcoin Revolution is a fake bot and fraudulent signals app designed to execute LOSING trades and in that way generate money for the brokers and affiliate marketing networks. There is absolutely no way for you to make money online using this software, and if by some crazy coincidence you manage to make a few bucks there is no way the thieving broker will let you cash out. If you wish to access additional evidence or findings we can actually make it available for you. Simply message us by leaving a comment below or contact us us via our YouTube Channel, and Facebook Group